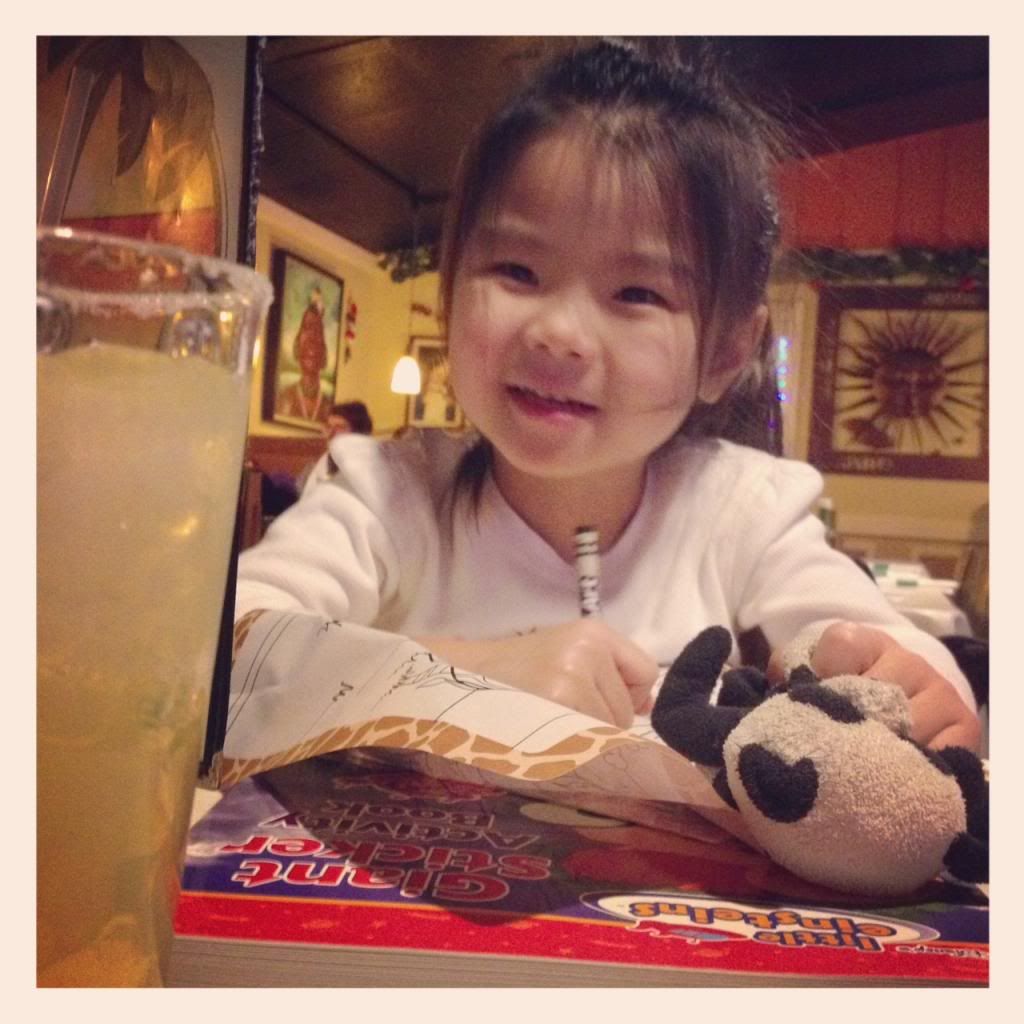 Happy Hour on Friday with the parents and grandparents
Saturday morning was awesome. We hit downtown for breakfast at our favorite cafe and favorite band. That's Larry's band in the background as Ella is bellied up to the bar for some bacon and eggs. She had to bring Dinah and played along the entire time we were there - in between bites.
We bundled up and hoofed it to our downtown library for more adventures.
The elevator ride up to the children's section is way cool with big open windows looking out. Ella, who normally loves any elevator or escalator, was quick to jump up into my arms.
We had fun walking through row after row of books. I had to limit her to eight selections. It was a difficult task.
We had fun in the bathroom, too :)
Yep, it was this gorgeous out on Saturday...I took this while we were stopped in traffic. Ella called them Cotton Ball Clouds.
Storytime before our Saturday nap was filled with new adventures. Is there nothing better than unveiling a new book?
Sunday was filled with church, a grocery store run and working on letter recognition. Ella despises this. She furrows her brow and grunts and stuff. All cooperation goes out the window.
Thanks to Pinterest, I am finding interesting ways to help her along. Once we accomplished this magnificent C, it was on to cooking with my little Julia Childs. Perched on her kitchen chair at the counter, she helped put together a wonderful meal for all of us. She likes to taste-test along the way.
Tomorrow starts the pre-school schedule once again and boy are we thankful for THIS! She gets to wear PJ's to school and is delighted her new Thomas the Train duds are fresh out of the dryer.
Have a great week, Ella-Land!
~H